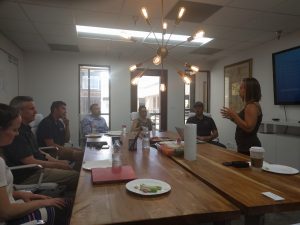 Yesterday's meeting for the Beach Area Self-Employed group was both fun and interesting. Jake Hess – the head of Heliogold gave a killer presentation on his sales approach and the Co-munnity co-working space was amazing – if you are looking for a co-working space I encourage you to check it out.
In the attached picture, from right to left, Jennifer Hudgens: health products specialist describing her sales techniques, Jake Hess: President of Heliogold Solar and our meeting host, Desiree Eriksson: education/home tutoring services business owner, James Vassas: President- Cairn Investor Services, Carlos Diaz – petcare company owner and animal behaviour expert, Bruce Rowe: business and technical writer and Eliza Everett: Business Coach and Advisor. Not shown: Cheryl Hudson: Operations Manager for Co-mmunity La Jolla co-working and Rob Gordon (me): Program Manager for Action Associates business cooperative.
After the meeting we went up on the roof for a bit of networking, and the view was really stunning. All in all it was a fun and successful meeting.