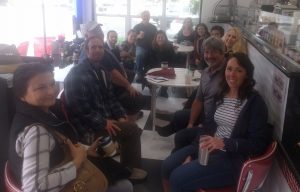 We had a really fun meetup for independent professionals in the neighborhood yesterday. These awesome people braved the rain to meet some of their self employed neighbors. As you can see we kind of over flowed Koffee Kat where we met. From left to right:
Roberta Pinter, Digital Marketing Specialist
Corey Jackson, Substitute Teacher with energy related Internet venture
Dale Porter, Business Owner/Software Engineer/Photographer
Patrick Cohen, Realtor & Utility Broker
Kristen Nicole, Owner of Kristen's Cart frozen yogurt & shaved ice at the pier
Rob Gordon, (me) building a business services cooperative starting with technical writing
Brenda Cote, Realtor, SAN Diego Castles Realty
Kelsey Barton, Software developer using Microsoft technologies.
Stephanie Antin, Manager – Create Healthy Families, business coach
Carlos Diez, Dog trainer and pet sitting
Karen & Mike Dodge, Broker/Owners – Pacific Paradise Realty
Jenn Malecha, Functional & holistic health coach
Thanks everyone who came – I think this is going to evolve into something cool. If you want to come to our next meeting and/or stay in the loop about our activities, please take a moment and fill out this Google form if you have not yet done so: https://goo.gl/Upvxic Wishing you all great success in this coming year!