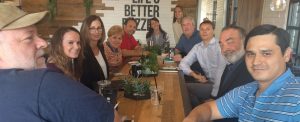 We had another fun and interesting meeting of Beach Area Self Employed (BASE) group at Better Buzz Coffee yesterday. Jenn Malecha did a wonderful job of moderating our discussion of simple systems we use to manage our business. As a side benefit, we got some great reading recommendations as there were a number of book hounds in the group. In the attached photo, from right to left:
Dale Porter
Eliza Everett
Robin Costa
Nicole Sours Larson
Davey Castro
Jenn Malecha (host and moderator)
Jennifer Hudgens
Rob Gordon
Andrey Kudryashov
Will Schussel
Alexander Midas
The next meeting will be on June 8th at 1:30 PM (location TBD) and will be hosted by Eliza Everett who has a small business coaching practice.