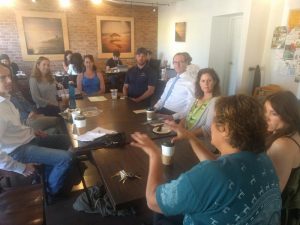 We had a fun meeting yesterday for self-employed folks in the beach area with lots of engaging discussions. This is not a perfect group picture – I am missing a few people, but attached is a photo I snapped during the meeting. From left to right:
Scott Ericson
Angel D. Auria (obscured – sorry Angel)
Amy Monroe
Jenn Malecha
Jake Hess
Brady Moore
Stephanie Antin (moderating)
Sue Cheney
Marti Marquez
We've had our ups and downs but this now seems to be moving forward in a nice way. Please take a moment to fill out this Google form if you want to be kept in the loop about our activities – it will also gain you access to our online discussion forum. . https://goo.gl/Upvxic Anyway, as I have said before, we have lots of smart and creative people right here in our neighborhood and it was nice getting to know some of you better.